4/28/14 – Earlier in the week, I had been asked by my friend Michael if I wanted to pool gas money for a storm chase in Illinois on 4/28/14. You may remember the last time I chased with Michael, we scored big on 5/18/13 and also 5/19/13. After looking at model data, and tossing the idea around, pulling some strings with a few other obligations I had, I decided late the night of the 27th, that I would be on board and ready to roll in the morning on 4/28. I only got about 3-4 hours of broken sleep, but isn't that how it's supposed to be? You'd be surprised at how little a storm chaser actually sleeps.
After I drove down to the car pool lot, Michael picked me up, then we went and picked up our friend Tony, and Michael's brother Shawn, and hit the road for Illinois. Initially we were trying to decide between two targets. I was thinking of targeting more up around Peoria, IL, Michael was thinking more along the lines of Effingham, IL. Regardless, both areas looked good for storm development. As we continued SW of Peoria, the storms began to fire too early back in Missouri. Once they fired out there, they became a mess fairly quickly. There were a few embedded supercell structures within the broken line of storms, but nothing really stuck out. We let the storms comes closer to us in Illinois. We decided to just sort of keep going south ahead of the storms, trying to find one that looked more promising. Eventually we did find a great cell, and that was the one we stuck with until the end. Below you will see the entire chase video, and below that, a timeline of what we saw, with a lot of great photos!
We ended up seeing some pretty neat structure, lots of Mammatus clouds. Pictured below you will see the Mammatus clouds, and also some squall line features that came soon after.
Eventually the batch of storms went more linear, and began pressing eastward, more than northward. We saw a few brief cell mergers along the way. One looked fairly decent, and is pictured below. This cell began rotating as it became absorbed into the squall line. After that we found another one that became absorbed into the line, and were treated so some more Shelfy type scenes. There was a distant funnel looking area under one of the cloud bases, but it was more than likely just scud.
Finally we were about ready to call it a day when the southernmost cell began to really look interesting. Before long, it became tornado warned. We decided to blast southeast toward Taylorsville, and then Pana. Below you will see the amazing images we saw of this supercell and also it's forward flank downdraft region as we headed down toward Pana.
Once atop a hill near Pana, we were treated to a beautiful mesocyclone with associated wall cloud, and some awesome structure overall. Nice CGs as well. Still not sure if there was a brief tornado underneath that wall cloud or not, but even if there wasn't this storm was still amazing.
After the storm was about to overtake us, we blasted east, and also north to stay out ahead of it. We were treated to some beautiful unobstructed views of this supercell. It was low topped, but for what it lacked in strength, it made up for in beauty. We would chase this storm until after sunset, we watched what was left of the couplet swirl overhead in Tuscola, IL, and then it gusted out and gave us a nice whale's mouth.
All in all, a great day chasing with friends in Illinois! I hope you enjoyed this article! Feel free to share.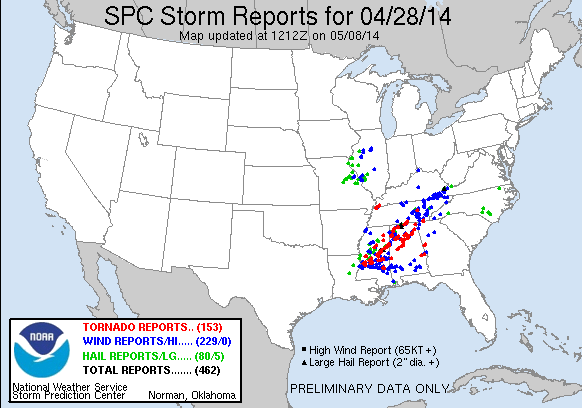 Storm Reports from 4/28/14